Push Button
Push Button Pens & Pencils
Lamy Unic Stainless Steel Fountain Pen & Ballpoint Set
  
 
Lamy Unic Stainless Steel Fountain Pen – Stainless steel cap and barrel, 14K gold medium nib, cartridge/converter filler, marked as "W Germany" under the clip, original inner and outer box.  Mint condition – Lamy-124 – $225
Lamy Unic Stainless Steel Ballpoint Pen – Stainless steel barrel, ink tip telescopes into and out of the barrel when push button is depressed, made in West Germany.  Mint condition. – Lamy-125 – SOLD
Pilot Namiki Vanishing Point Capless Fountain Pen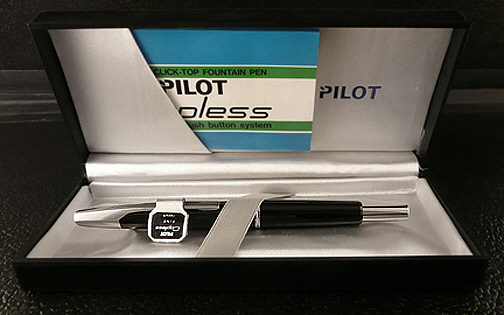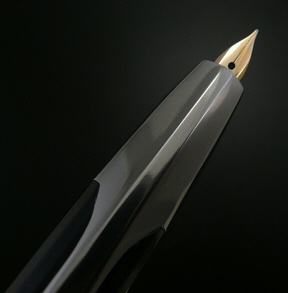 Pilot Namiki Vanishing Point Capless Fountain Pen – Black faceted barrel, stainless steel push button, trim and pocket clip. 14K gold nib (your choice of fine, medium or broad). Cartridge/converter filler. Nib is push-button actuated. Comes with nner/outer box, papers & ink cartridge cover. Mint condition.
PILOT-122 – SOLD
Montblanc 350 Pix Black Pencil
Montblanc 350 Pix Pencil – Black barrel, gold trim, 0.9 mm lead, push button actuated, near mint excellent+ condition.
MONTBLANC-209 – $130
Pilot Namiki Vanishing Point Limited Edition Fountain Pens

1 – Pilot Namiki Vanishing Point Fountain Pen – Mandarin Yellow – 2003 Limited Edition – 1,500 fountain pens released.  Lacquer barrel, rhodium trim, push button actuated nib, converter, cartridge cover, papers and original black faux leather box.  First ever Vanishing Point limited edition.  Very desirable pen, very hard to find.  Mint condition.  Choice of fine, medium or broad 14K gold nib.  – $495
2 – Pilot Namiki Vanishing Point Fountain Pen – Pink – 2011 Limited Edition – 2,011 fountain pens released.  Lacquer barrel, rhodium trim, push button actuated nib, converter, cartridge cover, box and papers, very, very light micro scratches on trim and clip, excellent++ condition.  Choice of extra fine, fine, medium, broad or stub 18K gold nib. – $495
3 – Pilot Namiki Vanishing Point Fountain Pen – Ice Green – 2010 Limited Edition – 2,010 fountain pens released.  Lacquer barrel, rhodium trim, push button actuated nib, converter, cartridge cover, box and papers, mint condition.  Choice of extra fine, fine, medium, broad or stub 18K gold nib. – $435
4 – Pilot Namiki Vanishing Point Fountain Pen – Maple Wood – 2013 Limited Edition – Only 900 fountain pens released.  Maple wood barrel, gold trim, push button actuated nib, converter, cartridge cover, missing box and papers, light micro scratches on trim, excellent condition.  Choice of fine, fine medium, medium or broad 18K gold nib. – $420
5 – Pilot Namiki Vanishing Point Fountain Pen – Twilight – 2015 Limited Edition – 2,015 fountain pens released.  Lacquer barrel with a color transition from blue to purple, rhodium trim, push button actuated nib, converter, cartridge cover, missing box and papers, mint condition.  Choice of extra fine, fine, medium, broad or stub 18K gold nib. – SOLD
6 – Pilot Namiki Vanishing Point Fountain Pen – Ice Blue – 2006 Limited Edition – 1,235 fountain pens released.  Lacquer barrel, rhodium trim, push button actuated nib, converter, cartridge cover, missing box and papers, near mint condition.  Choice of extra fine, fine, medium, broad or stub 18K gold nib. – SOLD
7 – Pilot Namiki Vanishing Point Fountain Pen – Copper – 2014 Limited Edition – 2,014 fountain pens released.  Lacquer barrel, rhodium trim, push button actuated nib, converter, cartridge cover, box and papers, mint condition.  Choice of extra fine, fine, medium, broad or stub 18K gold nib. – $350
8 – Pilot Namiki Vanishing Point Fountain Pen – Vivid Red – 2009 Limited Edition – 2,009 fountain pens released.  Lacquer barrel, rhodium trim, push button actuated nib, converter, cartridge cover, red leather inner box and papers (missing white outer box), mint condition.  Choice of extra fine, fine, medium, broad or stub 18K gold nib. – $475
9 – Pilot Namiki Vanishing Point Fountain Pen – Purple – 2008 Limited Edition – 2,008 fountain pens released.  Lacquer barrel, rhodium trim, push button actuated nib, converter, cartridge cover, purple leather inner box and papers (missing white outer box), micro scratches on trim, mint condition.  Choice of extra fine, fine, medium, broad or stub 18K gold nib. – $525
10 – Pilot Namiki Vanishing Point Fountain Pen – Crimson Red – 2017 Limited Edition – 2,017 fountain pens released.  Lacquer barrel, rhodium trim, push button actuated nib, converter, cartridge cover, box and papers, mint condition.  Choice of extra fine, fine, medium, broad or stub 18K gold nib. – SOLD
History of the Pilot Namiki Capless Vanishing Point Fountain Pen
Pilot Namiki Vanishing Point Capless Fountain Pens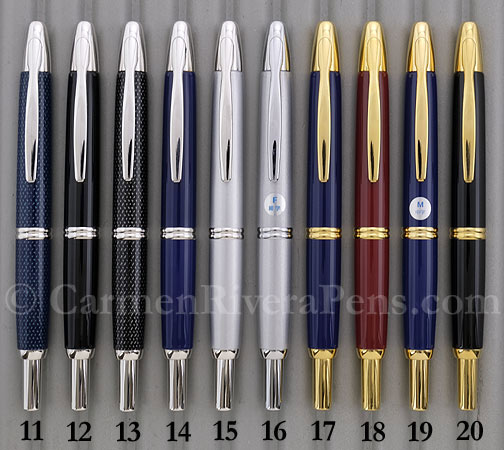 11 – Pilot Namiki Vanishing Point Fountain Pen – Blue Carbonesque – Fine, medium or broad 14K gold nib, rhodium trim, push button actuated nib, converter, cartridge cover, papers, inner & outer box, mint condition. – $120 — Or with 18K nib – $130 (Choice of extra fine, fine, medium, broad or stub 18K gold nib)
12 – Pilot Namiki Vanishing Point Fountain Pen – Black – Fine, medium or broad 14K gold nib, lacquer barrel, converter, rhodium trim, push button actuated nib, cartridge cover, papers, inner & outer box, very light micro scratches, near mint condition. – $115
13 – Pilot Namiki Vanishing Point Fountain Pen – Black Carbonesque – Choice of extra fine, fine, medium, broad or stub 18K gold nib, rhodium trim, push button actuated nib, converter, cartridge cover, papers, inner & outer box, mint condition. – $130
14 – Pilot Namiki Vanishing Point Fountain Pen – Blue – Fine, medium or broad 14K gold nib, lacquer barrel, rhodium trim, push button actuated nib, converter, cartridge cover, papers, inner & outer box, light micro scratches, excellent condition. – $100
15 – Pilot Namiki Vanishing Point Fountain Pen – Chrome – Fine, medium or broad 14K gold nib, lacquer barrel, converter, rhodium trim, push button actuated nib, cartridge cover, papers, inner & outer box, mint condition. – $120
16 – Pilot Namiki Vanishing Point Fountain Pen – Chrome – Extra fine, fine or medium gold-plated steel nib, lacquer barrel, converter, cartridge cover, rhodium trim, push button actuated nib, papers, inner & outer box, mint condition. – $100
17 – Pilot Namiki Vanishing Point Fountain Pen – Blue – Fine, medium or broad 14K gold nib, lacquer barrel, gold trim, push button actuated nib, cartridge/converter filler, light micro scratches, excellent condition. – $100
18 – Pilot Namiki Vanishing Point Fountain Pen – Red – Fine, medium or broad 14K gold nib, lacquer barrel, gold trim, push button actuated nib, converter, cartridge cover, papers, inner and outer box, light micro scratches, excellent condition. – SOLD
19 – Pilot Namiki Vanishing Point Fountain Pen – Blue – Extra fine, fine or medium gold-plated steel nib, lacquer barrel, converter, cartridge cover, gold trim, papers, inner & outer box, mint condition. – $100
20 – Pilot Namiki Vanishing Point Fountain Pen – Black – Fine, medium or broad 14K gold nib, lacquer barrel, gold trim, push button actuated nib, converter, cartridge cover, papers, inner & outer box, mint condition. – $120
History of the Pilot Namiki Capless Vanishing Point Fountain Pens
Pilot Namiki Metallic Vanishing Point Capless Fountain Pen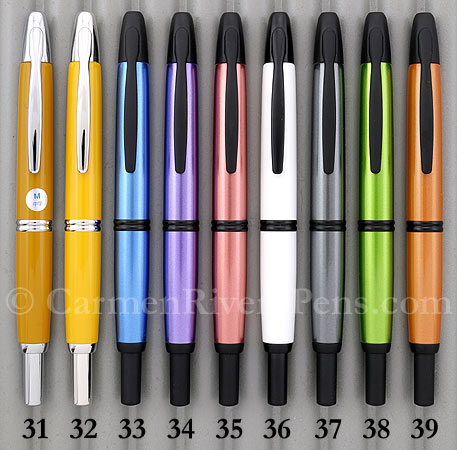 31 – Pilot Namiki Vanishing Point Fountain Pen – Mustard Yellow – Extra fine, fine or medium gold-plated steel nib, lacquer barrel, converter, cartridge cover, rhodium trim, push button actuated nib, papers, inner & outer box, mint condition. – $100
32 – Pilot Namiki Vanishing Point Fountain Pen – Yellow – Choice of extra fine, fine, medium, broad or stub 18K gold nib, rhodium trim, push button actuated nib, converter, cartridge cover, papers, inner & outer box, mint condition. – $130
33 – Pilot Namiki Vanishing Point Fountain Pen – Metallic Mountain Blue – Choice of extra fine, fine or medium black-plated 18K gold nib, matte black-plated trim, push button actuated nib, converter, cartridge cover, papers, inner & outer box, mint condition. – $130
34 – Pilot Namiki Vanishing Point Fountain Pen – Metallic Tropical Purple – Choice of extra fine, fine or medium black-plated 18K gold nib, matte black-plated trim, push button actuated nib, converter, cartridge cover, papers, inner & outer box, mint condition. – $130
35 – Pilot Namiki Vanishing Point Fountain Pen – Metallic Copper Red – Choice of extra fine, fine or medium black-plated 18K gold nib, matte black-plated trim, push button actuated nib, converter, cartridge cover, papers, inner & outer box, mint condition. – $130
36 – Pilot Namiki Vanishing Point Fountain Pen – White – Choice of extra fine, fine or medium black-plated 18K gold nib, matte black-plated trim, push button actuated nib, converter, cartridge cover, papers, inner & outer box, mint condition. – $130
37 – Pilot Namiki Vanishing Point Fountain Pen – Metallic Gun Metal Gray – Choice of extra fine, fine, medium, broad or stub 18K gold nib, matte black-plated trim, push button actuated nib, converter, cartridge cover, papers, inner & outer box, mint condition. – $130
38 – Pilot Namiki Vanishing Point Fountain Pen – Metallic Valley Green – Choice of extra fine, fine or medium black-plated 18K gold nib, matte black-plated trim, push button actuated nib, converter, cartridge cover, papers, inner & outer box, mint condition. – $130
39 – Pilot Namiki Vanishing Point Fountain Pen – Desert Orange – Choice of extra fine, fine or medium black-plated 18K gold nib, matte black-plated trim, push button actuated nib, converter, cartridge cover, papers, inner & outer box, mint condition. – $130
History of the Pilot Namiki Capless Vanishing Point Fountain Pens
Pilot Namiki Vanishing Point Capless Fountain Pen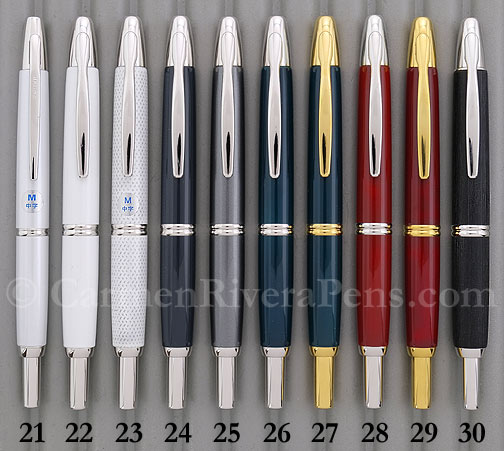 21 – Pilot Namiki Capless Decimo Fountain Pen – Pearl White – Choice of extra fine, fine, medium, broad or stub 18K gold nib.  Lacquer barrel, rhodium trim, push button actuated nib, converter, cartridge cover, papers, inner & outer box, mint condition. – $130
22 – Pilot Namiki Vanishing Point Fountain Pen – White – Choice of extra fine, fine, medium, broad or stub 18K gold nib.  Lacquer barrel, rhodium trim, push button actuated nib, converter, cartridge cover, papers, inner & outer box, mint condition. – SOLD
23 – Pilot Namiki Vanishing Point Fountain Pen – White Carbonesque – Choice of extra fine, fine, medium, broad or stub 18K gold nib.  Lacquer barrel, rhodium trim, push button actuated nib, converter, cartridge cover, papers, inner & outer box, mint condition. – $395
24 – Pilot Namiki Vanishing Point Fountain Pen – Slate Gray – Choice of fine, fine medium, medium or broad 18K gold nib.  Lacquer barrel, rhodium trim, push button actuated nib, converter, cartridge cover, papers, inner & outer box, mint condition. – $130
25 – Pilot Namiki Vanishing Point Fountain Pen – Gun Metal Gray – Choice of fine, fine medium, medium or broad 18K gold nib.  Lacquer barrel, rhodium trim, push button actuated nib, converter, cartridge cover, papers, inner & outer box, mint condition. – $130
26 – Pilot Namiki Vanishing Point Fountain Pen – Green – Choice of fine, fine medium, medium or broad 18K gold nib.  Lacquer barrel, rhodium trim, push button actuated nib, converter, cartridge cover, papers, inner & outer box, mint condition. Hard color to find. – $195
27 – Pilot Namiki Vanishing Point Fountain Pen – Green – Choice of fine, fine medium, medium or broad 18K gold nib.  Lacquer barrel, converter, cartridge cover, gold trim, push button actuated nib, papers, inner & outer box, mint condition. Hard color to find – $195
28 – Pilot Namiki Vanishing Point Fountain Pen – Red – Fine, medium or broad 14K gold nib, lacquer barrel, rhodium trim, push button actuated nib, converter, cartridge cover, papers, inner & outer box, light micro scratches, excellent condition. – $100
29 – Pilot Namiki Vanishing Point Fountain Pen – Red – Fine, medium or broad 14K gold nib, lacquer barrel, gold trim, push button actuated nib, converter, cartridge cover, papers, black leather box, light micro scratches, excellent condition. – $100
30– Pilot Namiki Vanishing Point Fountain Pen – Black Wood – Choice of extra fine, fine, medium, broad or stub 18K gold nib.  Wood barrel, converter, cartridge cover, rhodium trim, push button actuated nib, papers, inner & outer box, mint condition. – $280
History of the Pilot Namiki Capless Vanishing Point Fountain Pens
Vintage Pilot Namiki Capless Vanishing Point Fountain Pens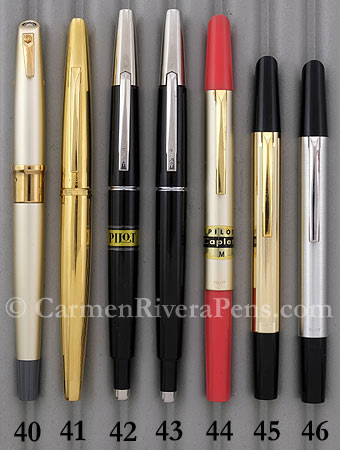 40 – Pilot Capless Fountain Pen – 1963 – Satin beige barrel, gold trim, short pocket clip, fine 14K gold nib, twist barrel to eject nib, converter included, comes with a very-hard-to-find beige and black pen box that is labeled "Pilot Capless" with the Capless logo (has a 3/4″ crack in lid) (box picture 1, picture 2), near mint condition. – $495
41 – Pilot Capless Fountain Pen – 1966 – 22K gold-plated barrel, fine 14K gold nib, twist barrel to eject nib, includes cartridge and  cartridge cover, inner and outer Pilot Capless box (box picture 1, picture 2), very light micro scratches on the barrel, excellent++ condition. – $495
42 – Pilot Capless Fountain Pen – 1964 – Black barrel, chrome-plated trim, push button actuated nib, fine 14K gold nib, ink cartridge, cartridge cover, stickered (marked medium but nib is fine), mint condition. – $295
43 – Pilot Capless Fountain Pen – 1964 – Black barrel, chrome-plated trim,  fine 14K gold nib, ink cartridge, cartridge cover, push button actuated nib, micro scratches, name lightly engraved in barrel, excellent condition. – $195
44 – Pilot Capless Fountain Pen – 1965 – Pink Ends, Satin Beige Barrel – Fine gold-plated nib (uninked!), push button actuated nib, stickered, inner/outer box, very light micro scratches on pink ends and clip,  excellent+ condition. – $295
45 – Pilot Capless Fountain Pen – Blacks Ends, Striped Gold-plated Barrel – Fine gold-plated nib (has pinprick pitting on top and underside of nib), push button actuated nib, excellent condition. – $195
46 – Pilot Capless Fountain Pen – Black Ends, Brushed Aluminum Barrel – Fine gold-plated nib (gold plating has flaked off near tip of nib), push button actuated nib, excellent condition. – $165
History of the Pilot Namiki Capless Vanishing Point Fountain Pens
Pilot Namiki Faceted Vanishing Point Capless Fountain Pen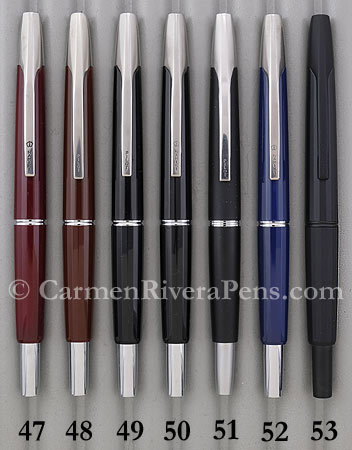 47 – Pilot Namiki Faceted Vanishing Point Fountain Pen – Burgundy – Faceted barrel, stainless steel trim, push button actuated nib, cartridge/converter filler, box and papers, very light micro scratches, excellent+ condition.  Choice of fine, medium or broad 14K gold nib – SOLD
48 – Pilot Namiki Faceted Vanishing Point Fountain Pen (c. 1999) – Brown Burgundy (not official name of color – I am still researching that) – This VP color was never released in the U.S.  Faceted barrel, stainless steel trim, push button actuated nib, cartridge/converter filler, box and papers, uninked, minty-mint condition.  Very hard color to find.  The pen is factory sealed in a plastic sleeve (the pen image above is of my pen from my personal collection)  Choice of fine or medium 14K gold nib (Broad is also available, but I will have to take the pen out of the sealed plastic sleeve to do the nib switch.) Comparison picture between the burgundy and the brown burgundy VP. – $395
49 – Pilot Namiki Faceted Vanishing Point Fountain Pen – Black – Faceted barrel, stainless steel trim, push button actuated nib, cartridge/converter filler, no box or papers, very light micro scratches, excellent+ condition.  Choice of fine, medium or broad 14K gold nib – $250  –Also available: Black faceted VP, no box or papers, micro scratches on barrel,  excellent condition – $225
50 – Pilot Namiki Faceted Vanishing Point Fountain Pen – Black – Faceted barrel, stainless steel trim, push button actuated nib, cartridge/converter filler, no box or papers, mint condition.  Choice of fine, medium or broad 14K gold nib – $275
51 – Pilot Namiki Vanishing Point Fountain Pen – Matte Black – Round aluminum barrel, stainless steel trim, push button actuated nib, cartridge/converter filler, pinprick marks over barrel surface (closeup-1, closeup-2), otherwise excellent+ condition.  Choice of fine or medium 14K gold nib – SOLD
52 – Pilot Namiki Faceted Vanishing Point Fountain Pen – Blue – Faceted barrel, stainless steel trim, push button actuated nib, cartridge/converter filler, box and papers, mint condition.  Choice of fine, medium or broad 14K gold nib – $325  –Also available: Blue faceted VP, no box or papers, light micro scratches on barrel,  excellent+ condition – SOLD
53 – Pilot Namiki Faceted Vanishing Point Fountain Pen – Stealth/Matte Black – Faceted barrel, stainless steel trim, push button actuated nib, cartridge/converter filler, box and papers, uninked, minty-mint condition.  Very desirable pen.  Get it while you can.  Choice of fine, medium or broad 14K gold nib – SOLD
History of the Pilot Namiki Capless Vanishing Point Fountain Pens