Push Button
Pilot Namiki Vanishing Point Capless Fountain Pens

1 – Pilot Capless Fountain Pen – 1966 – 22K gold-plated Capless in mint/near mint condition (no dents, scrapes, rust spots…only the very, very lightest of micro scratches on the barrel), hard clam shell presentation case, medium 14K gold nib, converter and cartridge cover. This pen is in the best condition I have ever seen a 1966 Capless. Here is the Google translation of the imprint in the case: "Uranium Seikocho igg contract signing memorial, 1968 January 22, Mitsubishi Corporation Arugomu." (Very Cool!) Very hard to find, especially in this great condition. – SOLD
2 – Pilot Capless Fountain Pen – Blue Ends, Satin Beige Barrel – Fine gold-plated nib, converter, push button, stickered, uninked, mint condition. – SOLD
3 – Pilot Capless Fountain Pen – Turquoise Ends, Satin Beige Barrel – Broad gold-plated nib (nib tip area pitted on top and underside of nib), push button, excellent condition. – SOLD
4 – Pilot Capless Fountain Pen – Turquoise Ends, Satin Beige Barrel, Gold Clip – Fine gold-plated nib, converter, push button, excellent condition. – SOLD
5 – Pilot Capless Fountain Pen – Blacks Ends, Satin Beige Barrel – Fine gold-plated nib (uninked!), converter, stickered, push button, papers, plastic box with cardboard outer sleeve, mint condition. – SOLD
6 – Pilot Capless Fountain Pen – Pink Ends, Satin Beige Barrel – Fine gold-plated nib, converter, push button, near mint condition. – SOLD
7 – Pilot Capless Fountain Pen – Blue Ends, Brushed Aluminum Barrel – Fine gold-plated nib, converter, uninked, push button, stickered, plastic box with cardboard outer sleeve, mint condition. – SOLD
8 – Pilot Capless Fountain Pen – Pink Ends, Brushed Aluminum Barrel – Fine gold-plated nib, converter, stickered, push button, box and outer cardboard sleeve, mint condition. – SOLD
9 – Pilot Capless Fountain Pen – Black Ends, Brushed Aluminum Barrel – Fine gold-plated nib, push button, small chip on black plastic tip, light pin-prick pitting on aluminum barrel, very good condition. – SOLD

10 – Pilot Sesenta (narrow size…like the Decimo) – Brown Marble, Limited Edition, 2007, released in Japan – only 400 pens, unusual Chromium Trim, medium rhodium plated 18K gold nib, mint condition with box, papers, converter and cartridge cover.  Very hard to find – SOLD
11 – Pilot Namiki Decimo Fountain Pen – Pearl White – Medium rhodium plated 18K gold nib, lacquer barrel, rhodium trim, converter, cartridge cover, papers, inner & outer box, mint condition. – $130
12 – Pilot Namiki Decimo Fountain Pen – Champagne Pink – Medium rhodium plated 18K gold nib, lacquer barrel, rhodium trim, converter, cartridge cover, papers, inner & outer box, mint condition. – SOLD
13 – Pilot Namiki Decimo Fountain Pen – Blue– Medium rhodium plated 18K gold nib, lacquer barrel, rhodium trim, converter, cartridge cover, papers, inner & outer box, mint condition. – SOLD
14 – Pilot Namiki Decimo Fountain Pen – Gray – Medium rhodium plated 18K gold nib, lacquer barrel, rhodium trim, converter, cartridge cover, papers, inner & outer box, mint condition. – SOLD
15 – Pilot Namiki Vanishing Point Fountain Pens – Burgundy faceted barrel, push button actuated nib, 14K gold nib (fine, medium or broad), converter, cartridge cover, papers, inner & outer box, mint condition.  Hard to find color – SOLD
16 – Pilot Namiki Vanishing Point Fountain Pens – Black faceted barrel, push button actuated nib, 14K gold nib (fine, medium or broad), converter, cartridge cover, papers, inner & outer box, micro scratches on barrel, excellent condition. – SOLD
17 – Pilot Namiki Vanishing Point Fountain Pens – Black faceted barrel, push button actuated nib, 14K gold nib (fine, medium or broad), converter, cartridge cover, papers, inner & outer box.  Three small flat spots on the edge of facets, otherwise excellent+ condition. – SOLD
18 – Pilot Namiki Fermo Fountain Pens – Silver – Twist barrel, medium rhodium plated 18K gold nib, lacquer barrel, rhodium trim, converter, cartridge cover, papers, inner & outer box, mint condition. – SOLD
19 – Pilot Namiki Fermo Fountain Pens – Dark Green – Twist barrel, medium rhodium plated 18K gold nib, lacquer barrel, rhodium trim, converter, cartridge cover, papers, inner & outer box, mint condition. – SOLD

20 – Pilot Namiki Vanishing Point Fountain Pen – Mandarin Yellow – 2003 Limited Edition – 1,500 released.  Fine, medium or broad 14K gold nib, lacquer barrel, rhodium trim, converter, cartridge cover, papers, original black faux leather box, mint condition.  First ever Vanishing Point limited edition.  Very desirable pen, very hard to get.  Mint condition – $525
21 – Pilot Namiki Vanishing Point Fountain Pen – Purple – 2008 Limited Edition – 900 released – Medium 18K gold rhodium-plated nib, lacquer barrel, rhodium trim, converter, cartridge cover, papers, Purple leather presentation box & cardboard outer box, mint condition.  Desirable pen.  Hard to find.  – SOLD
22 – Pilot Namiki Vanishing Point Fountain Pen – Ice Blue – 2006 Limited Edition – 1,235 released – Medium 18K gold rhodium-plated nib, lacquer barrel, rhodium trim, converter, cartridge cover, papers, light blue lacquered wood presentation box & cardboard outer box, mint condition. – SOLD
23 – Pilot Namiki Vanishing Point Fountain Pen – Red – Fine, medium or broad 14K gold nib, lacquer barrel, gold trim, converter, cartridge cover, papers, inner & outer box, very light micro scratches, near mint condition. – $130
24 – Pilot Namiki Vanishing Point Fountain Pen – Blue – Fine, medium or broad 14K gold nib, lacquer barrel, gold trim, converter, cartridge cover, papers, inner & outer box, very light micro scratches, near mint condition. – $130
25 – Pilot Namiki Vanishing Point Fountain Pen – Black – Fine, medium or broad 14K gold nib, lacquer barrel, gold trim, converter, cartridge cover, papers, inner & outer box, very light micro scratches, near mint condition. – $130
26 – Pilot Namiki Vanishing Point Fountain Pen – Brown – Fine 18K gold rhodium-plated nib, lacquer barrel, rhodium trim, converter, cartridge cover, papers, inner & outer box, mint condition. – SOLD
27 – Pilot Namiki Vanishing Point Fountain Pen – Black – Fine, medium or broad 14K gold nib, lacquer barrel, converter, rhodium trim, cartridge cover, papers, inner & outer box, very light micro scratches, near mint condition. – $130
28 – Pilot Namiki Vanishing Point Fountain Pen – Red – Fine, medium or broad 14K gold nib, lacquer barrel, converter, rhodium trim, cartridge cover, papers, inner & outer box, very light micro scratches, near mint condition. – $130

29 – Pilot Namiki Vanishing Point Fountain Pen – Yellow – Fine, medium or broad 18K gold nib, lacquer barrel, rhodium trim, converter, cartridge cover, papers, inner & outer box, mint condition. – SOLD
30 – Pilot Namiki Vanishing Point Fountain Pen – Chrome – Fine, medium or broad 14K gold nib, lacquer barrel, converter, rhodium trim, inner pipe, papers, inner & outer box, mint condition. – $135
31 – Pilot Namiki Vanishing Point Fountain Pen – Chrome – Fine gold-plated nib, lacquer barrel, converter, cartridge cover, rhodium trim, papers, inner & outer box, mint condition. – $115
32 – Pilot Namiki Vanishing Point Fountain Pen – Blue Carbonesque – Fine, medium or broad 14K gold nib, converter, cartridge cover, papers, inner & outer box, mint condition. – $135
33 – Pilot Namiki Vanishing Point Fountain Pen – Black Carbonesque – Fine, medium or broad 14K gold nib, rhodium trim, converter, cartridge cover, papers, inner & outer box, light micro scratches on trim, excellent++ condition. – SOLD
34 – Pilot Namiki Vanishing Point Fountain Pen – Red Carbonesque – 2003 Limited Edition – 1,500 released – Fine, medium or broad 14K gold nib, rhodium trim, converter, cartridge cover, papers, inner & outer box, micro scratches on trim, excellent+ condition. – SOLD
35 – Pilot Namiki Vanishing Point Fountain Pen – Raden – Fine, medium or broad 14K gold nib, abalone shell and lacquer barrel, rhodium trim, converter, cartridge cover, papers, box and papers, mint condition. – SOLD
36 – Pilot Namiki Vanishing Point Fountain Pen – Matte Black – Medium rhodium plated 18K gold nib, matte black trim, converter, cartridge cover, papers, first-release square box, mint condition. – $160
History of the Pilot Namiki Capless Vanishing Point Fountain Pens
Push Button Pens & Pencils
Lamy Unic Stainless Steel Fountain Pen & Ballpoint Set
  
 
Lamy Unic Stainless Steel Fountain Pen – Stainless steel cap and barrel, 14K gold medium nib, cartridge/converter filler, marked as "W Germany" under the clip, original inner and outer box.  Mint condition – Lamy-124 – $225
Lamy Unic Stainless Steel Ballpoint Pen – Stainless steel barrel, ink tip telescopes into and out of the barrel when push button is depressed, made in West Germany.  Mint condition. – Lamy-125 – SOLD
Pilot Namiki Vanishing Point Capless Fountain Pen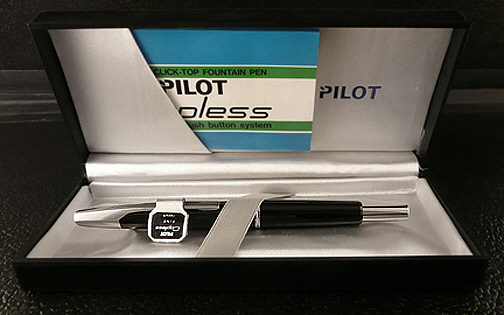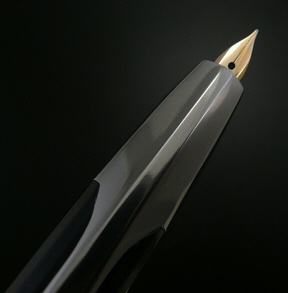 Pilot Namiki Vanishing Point Capless Fountain Pen – Black faceted barrel, stainless steel push button, trim and pocket clip. 14K gold nib (your choice of fine, medium or broad). Cartridge/converter filler. Nib is push-button actuated. Comes with Inner/outer box, papers & inner pipe. Mint condition. * Specialty nibs available for this pen. See bottom of page.
PILOT-122 – SOLD
Montblanc 350 Pix Black Pencil
Montblanc 350 Pix Pencil – Black barrel, gold trim, 0.9 mm lead, push button actuated, near mint excellent+ condition.
MONTBLANC-209 – $130